SAN JOSE, Costa Rica (CNN) -- Fourteen people have died and another 22 are missing after a 6.1-magnitude earthquake Thursday in north central Costa Rica, officials said Friday.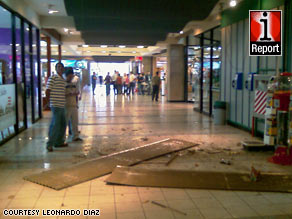 iReporter Leonardo Diaz photographed the damage in Plaza Mayor Shopping Center in San Jose.
More than 1,200 people were stranded, without a way to get out of towns or homes, Red Cross official Milton Chaverri told CNN. Another 1,000 people were living in shelters, he said.
There was no update on the number of injured immediately available Friday, but officials put the number at 300 on Thursday.
"Many people were injured, many buildings were damaged and landslides blocked roads in the area," the U.S. Geological Survey said.
The dead included three young girls, officials said Friday.
Costa Rican President Oscar Arias Sanchez was scheduled to tour the affected area Friday. On Thursday, he appealed for calm.
The remote area near Alajuela, where theearthquake hit strongest, is difficult to reach, and officials said they were having to rely on helicopters for medical evacuations and to airlift supplies.
Randall Picado, a government rescue official, said many residents were without water and other necessities.
About 400 volunteers and Red Cross personnel were giving aid in 15 communities, Chaverri said.
The earthquake was felt throughout Costa Rica and in southern and central Nicaragua, the U.S. Geological Survey reported on its Web site.
Aftershocks continued to be felt Friday in San Jose, the capital, and other cities throughout the nation, Chaverri said. iReport.com: Are you there? Send photos, video
The Geological Survey placed the earthquake's epicenter at 20 miles (32 kilometers) north-northwest of San Jose at a depth of 2.9 miles (4.7 kilometers).